Welcome to the Una Chapman Cox Foundation
The Una Chapman Cox Foundation is a non-profit organization dedicated to supporting the effectiveness and professionalism of the U.S. Foreign Services.
Explore Our Programs
The Foundation
The Cox Foundation lends its support to programs that align with its values and goals.
The Foundation was founded by Mrs. Una Chapman Cox, an enthusiastic world traveler whose encounter with a Foreign Service Officer would have a lasting impact on her life.
The Leadership at the Cox Foundation is comprised of our Trustees and Policy Council, who offer insight into many programs and program decisions.
Featured Fellow
Leslie Moeller
2023-2024
Leslie Moeller is committed to strengthening the Department of State as an institution for the benefit of U.S. foreign policy and the colleagues who implement it.
In an era of increasing globalization and citizen empowerment, there is an enormous amount of cultural, financial, and political exchange occurring at the state and local level outside traditional bilateral and multilateral channels.  The need to bolster subnational ties has taken on even greater importance in the wake of the COVID-19 pandemic. Through her fellowship, Leslie will examine U.S. municipalities' foreign outreach and identify concrete steps that our embassies and consulates can take to better facilitate relationships between U.S. cities and their counterparts abroad.  She likewise intends for these recommendations to enable individual Foreign Service officers to foster new connections across the United States.
Leslie joined the Foreign Service in 2006 and has participated in several Department-wide and management reform efforts over the course of her career.  Her work with large teams of both U.S. and foreign nationals in crisis and non-crisis situations has shown her both the practical and human impacts of organizational inefficiencies and the successes dedicated colleagues can achieve despite them.  She has served in Washington, D.C., as well as in Mali, Afghanistan, India, South Africa, and Saudi Arabia.
Our Programs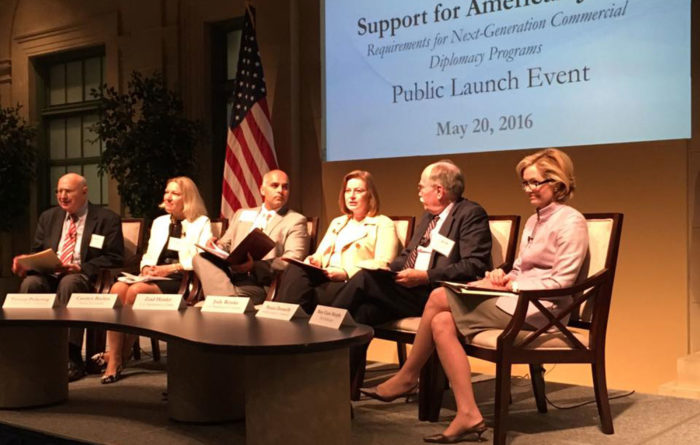 Sabbatical Fellowship

The Foundation began with the Cox Sabbatical Fellowship, a program that offers promising Foreign Service Officers a stipend with the chance to recharge their batteries and reaffirm their personal commitment to the Foreign Service through for one year.

Learn More
The American Diplomacy Project

The Foundation is currently supporting The American Diplomacy Project, an ongoing initiative aimed at focusing on the future of the United State's Foreign Service.

Learn More
Cox Language Awards

The Foundation partners with the Foreign Service Institute to support highly competitive annual awards for excellence in foreign language instruction.

Learn More
Latest Report
American Diplomacy Project II, Blueprints for a More Modern United States Diplomatic Services
Publish Date: September 2022
The American Diplomacy Project – Phase II, in collaboration with the Una Chapman Cox Foundation and ASU, built upon on the original report published in 2020 by Harvard University's Belfer Center for Science and International Affairs which centers around four "blueprints" that are critical to State Department Reform.
Read Report
See Full List of Resources